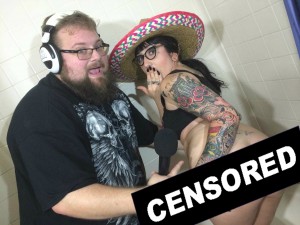 HOLY SHIT! That is the only way to accurately describe what happened on this episode! In true Demon Seed Fashion we rang in the new year with a Butthole Fiesta!
The night began innocently enough… for us anyway as we discussed Camille's career and current projects, we reminisced about the year long build up to our fearless leader Bobby Genital Peeing into Camille Black's butt and even made the announcement that our camera man and owner of Fuzzy Peach Productions was willing to have not just one but TWO Girls pee into HIS butt as well!
We also tried the Mentos Challenge with an Anal twist (You'll have to listen to see if the Myth was "Busted" or not) and of course the MAIN EVENT OF THE NIGHT!
This episode was not just the first one of 2016 but it also served as the celebration of Whitney and Camille's birthday! Both these lovely ladies were born on January 4th!
The wildest episode to date – You certainly don't want to miss this!
Follow Camille Black on Twitter!
___
Tweet Demon Seed Radio
https://twitter.com/demonseed69
Demon Seed Official Website
http://www.demonseedradio.com
Podcast: Play in new window | Download
Subscribe: RSS