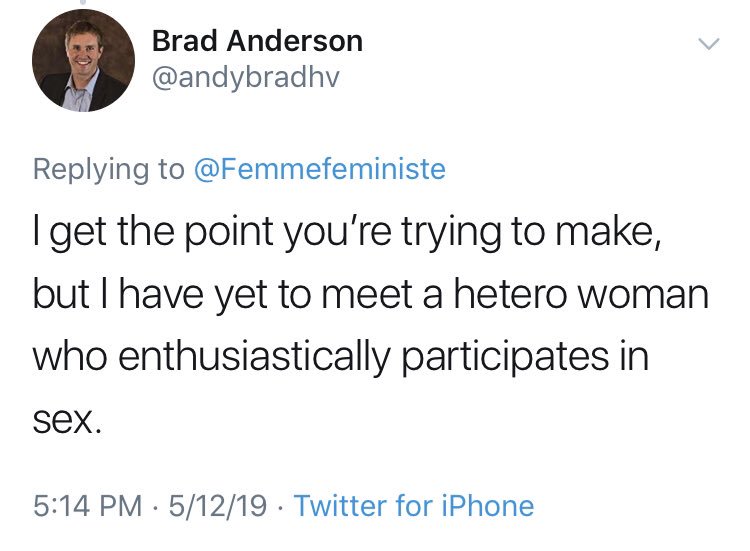 Crazy things men say to sex workers!
AdultIndustry.news
July 25, 2022 no comments 12 Random Ramblings harassment , Men , Sex Workers
Sex work isn't exactly the easiest job, and sometimes you have to put up with a lot of shit from random guys. But I don't think your average person knows just how insane it can get at times. Porn stars, strippers, webcam models, OnlyFans content creators – these girls all have one thing in common – crazy ass men they put up with.
One particular girl decided to talk about it on Twitter and invited others to tell their stories about things men threw temper tantrums over. The answers were priceless.
@chvcklfvck says: That he saw my butthole when he purchased an up-close video. Sir, I cannot relocate it.
@SoSofiaMiles says: me giving our waiter too much (nonflirtatious!, respectful) attention. He was sulky for the entirety of our dinner, and I was turned off af.
@EmmaFox18 says: Did a Pvt on cam & dude asked for anal, so I got my dildo wet with my mouth before sticking it in. This set him off. He called me a whore, ended the PVT, freaked out saying I was like all the rest, upset that I wouldn't move to Arizona to marry him, & then threatened to off himself.
Yeahh haha he was very torn up I put the dildo in my mouth first. Telling me he was so caught off guard and hurt by it as if I traumatized him or something .
@ItsEdenExile says: Not having a friendly chat in DM'S for free on Christmas, because it was Christmas. I politely asked what I could help with, said I didn't chat for free and sent my links, etc., but this triggered him into a full-blown meltdown about how rude I am and the fact it was Christmas.
@MissRebaFaye says: I don't take phone calls. One day, a stranger kept calling me and leaving voicemails which devolved into threats. He said it could have been avoided if I'd answered the phone.
@Ari_Abella says: Dude bought me a purse that I LOVED. I wore it practically every day, and because I used it so often and usually pay cash, it accumulated change. He threw a fit, saying I disrespected him, and "cheapened" the purse because there was change in it. Like sorry? for using the purse that you gave me??
@Emma_Cassel says: Me having veins ( yes, really). He was mad that you could see them through the skin of my breasts
@Tiffany_PerthWA says: Refusing to send them free content before our meeting so he could "see me in action." The guy went postal, saying I was F'ed in the head and something wrong with me, no wonder no one hires me, etc, and all sorts of other things. Like, calm down, bro, my OnlyFans is only $7.50, sheesh.
@ZinaBerlin says: Client had a meltdown bc I wouldn't give him my panties (for free!) as a 'souvenir.' He canceled our booking and said he'd find someone more to his liking. He then threw ANOTHER tantrum when he wanted to 'uncancel', and I refused to see him.
@surrealwhore says: I watched a very wealthy client have a meltdown because his $5 Lyft coupon didn't work.
@Meggweenie says: Promptly leaving them when their time was up usually resulted in a few lil meltdowns 'wah wah I thought we had something but you're just a GOLD DIGGER'
This one seems to be quite common – @LoveLolaEmber says: Not wanting to hang out with them for free.
@mayapetitee says: He thought I was scamming him out of money when I told him custom videos aren't included in my PPV free onlyflaps. He also said that all 300 of my videos "weren't free" because he had to pay $7 to access them (-:
@mayapetitee also says: A man called me a racial slur when I refused to gape my ass for £5.
@SweetAmberLeigh says: me not being willing to engage in lengthy texts outside of booking time. Also not staying longer than the time that he booked. The usual entitled whiney stuff.
@J3ssicaStarling says: We were in a private on cam, and I wouldn't let him send me cocaine through the mail
@SexyBBWLiz responds with: Reminds me of the phone sex caller who threw a snit because I wouldn't tell him where I lived so he could hire my husband to run drugs for him to keep him busy/away from home so the caller could fuck me 24/7
@lovemoneyh8men says: Client flew me out to see him & I took deposit. Then he had a mental breakdown because he didn't actually have all the $ to see me. Literally sobbed on his knees in front of me and begged me to still see him. So disturbing.
@cutiekfeet says: A dude I did NOT know sliding into my DM to ask me if I would buy him weed. When I (rightly) told him to gtfo he called me basically every insult under the sun, then blocked me.
@JaneVervain says: that his wife was at home before our session thus "forcing him" to make up an excuse to leave the house … he showed up so angry at her ….. i was like, chill bro you are already living a lie what's one more little lie? lol
@LunaDiamondxx says: Declining his offer of an extra $50 to do BBFS. Apparently, all the girls are doing it, and I'm a stupid whore for not.
@kikiloverkink says: This dude had a meltdown because he called me by my "fake real name," and I told him I'm Kiki and to just call me Kiki, he said he thought he was special, and he thinks we're close enough to call me by my real name, bro even the real name I gave you is fake. Delusional.
---
Discord Podcast Chat
https://discord.gg/5EUDuY8
Podcast: Play in new window | Download
Subscribe: RSS